WARNING!: This page will cause uncontrolable laughter. Please, do not eat or drink anything while viewing this section of the Crusade site. Technomage Selena will not be held responsible for any damage done on your end of the internet. Thank you.
This page is dedicated to all the people out there who have a sense of humor. My mom was playing around with our imaging program one day and I sent her altered pics to our friends. Our friends said that she should put them online somewhere for everyone to see. So, I created this page for her altered pics and for anybody else who wants to play with Crusade pics and have somewhere to show them off. Thank you so much to my mom for starting a new craze. If you have any humorous pics you want to archive somewhere...e-mail me and I will see what I can do. Please remember everyone, this is all done in fun...nothing more.
The Irreverent Comedy of...
STORMY ANGEL
(Click on the images below to see fullsize pic)
The Irreverent Comedy of...
IOCANE
To veiw her altered pics please go to the following URL!
http://
The Irreverent Comedy Of...
Technomage Selena
(Click on images below to see full size pic.)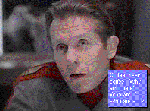 The Irreverent Comedy Of...
CJSGalen